With its modern-yet-bohemian vibe, Tribeca is one of the most sought-after neighborhoods in New York. As a former hub for industry, warehouses and factories comprised much of the real estate space in the area. Now renovated into businesses and residential buildings, these buildings are what give Tribeca such palpable energy.


A cultural hotspot full of trendy boutiques, restaurants, bars, and art galleries, Tribeca represents a distinct blend of industrial aesthetics and artistic, contemporary flair. If you already call Tribeca home or are looking for the perfect condo in the neighborhood, you may be wondering how to turn your place into a luxurious – yet comfortable – place to relax. These 13 interior design tips for personalizing your Tribeca condo will help it stand out.
1. Take your time
Do not immediately jump into remodeling and design projects when you first move into your new Tribeca condo. Instead, take some time to live in your space and figure out which changes to the layout would be more functional to your everyday living. What would allow you to maximize space? Where do you think you will spend the most time?


If you jump into a project too soon, you may find it doesn't meet your long-term goals, and you will have to start over. As you begin working on your project, continue to take your time. You do not have to buy everything at once, and you do not have to have the entire room planned down to the minute details. Give your rooms a chance to evolve, and your vision will still fall into place.
2. Go custom for some pieces
One way to truly personalize your condo and create a luxurious space is to spend some time customizing your decor. If you can't find a piece that speaks to you in the store, consider a custom item no one else will have. Likewise, custom furniture, window treatments, or light fixtures are the way to go if you want a unique look that reflects your taste and style. Custom pieces ensure high-quality furnishings that exude elegance and comfort for your specific space.
3. Be consistent in your theme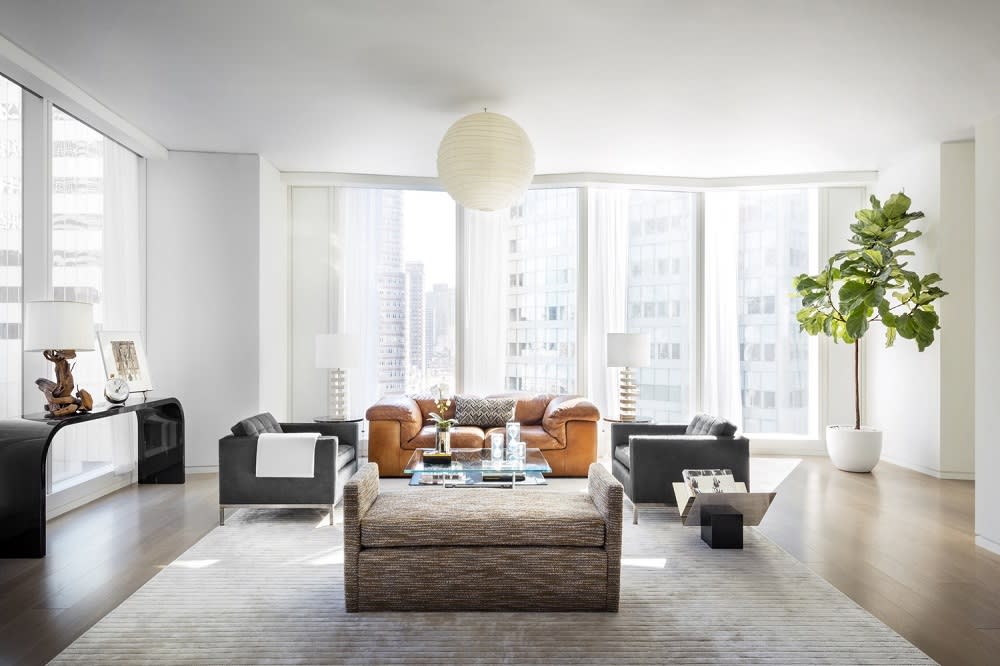 Being consistent does not mean that each room has to look the same. It doesn't even mean that all of your furniture in a room must be of a matching set. However, if you have an open floor plan in your Tribeca condo, you may want to decide on an underlying theme for consistency in decor. Options for furniture and decor shopping in Tribeca include retailers like
Property
on Broadway.
4. Choose multifunctional pieces
When choosing furniture pieces or accent items, keep functionality in mind. Many people may have a love-hate relationship with a Murphy bed, but they are not the only multifunctional pieces. For example, a bench seat serving as storage can hold your throw blankets. When entertaining, you can use a tray to turn an ottoman into a table. Keep a decorative basket near the entry to collect items when tidying up. Pieces that serve multiple purposes are a better investment than buying individual items for every little task, and they can help your home feel more organized and less cluttered.
5. Layer with rugs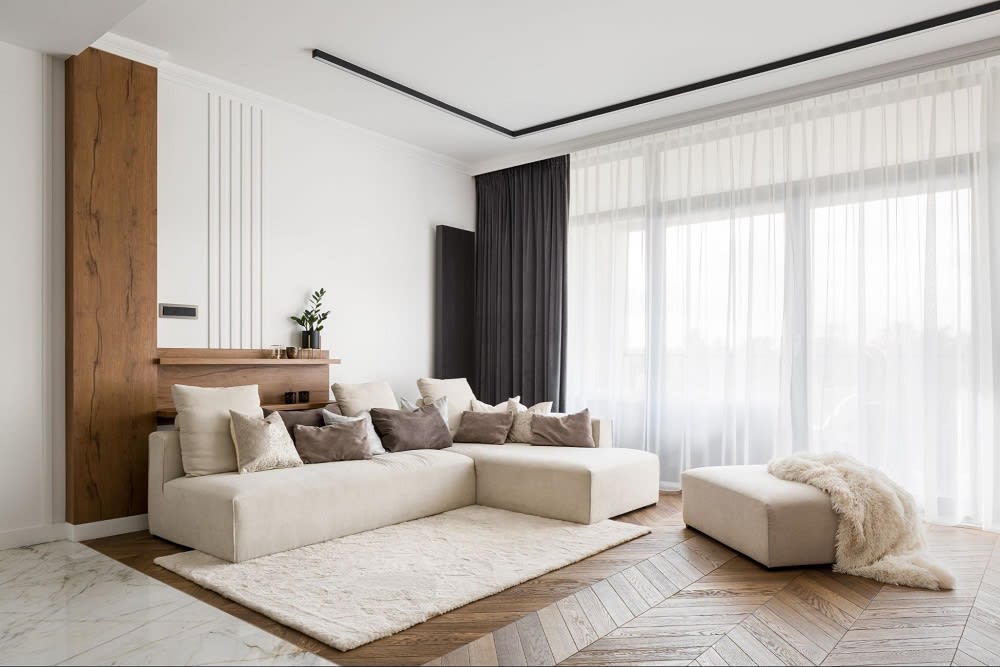 Rugs serve both an aesthetic and a practical purpose. If you are not yet sure about new flooring, a rug can cover the space in the meantime. A beautiful rug can anchor a room and pull together your design scheme. You can also use rugs to divide multi-use rooms into distinct sections, particularly for open floor plans. Defining each area with rugs can give the illusion of larger square footage, even in smaller spaces. Rugs are also an excellent piece to show off a little of your personality. In addition, they can be changed out more quickly than flooring, and of course, they help with acoustics and will keep your feet warmer than bare floors. You can purchase specialty rugs in the Tribeca area at
Double Knot
.
6. Light up the room
Sunlight reduces stress, and taking advantage of natural light is more eco-friendly. It would be best if you considered natural lighting when choosing the layout of your rooms. However, you can also make a room look larger with the right light fixtures. You can add dimmers for more flexibility and convenience. When paired with large or ornate mirrors to reflect light, choosing the right
light fixtures
can significantly impact the overall feel of your condo.
7. Choose your art wisely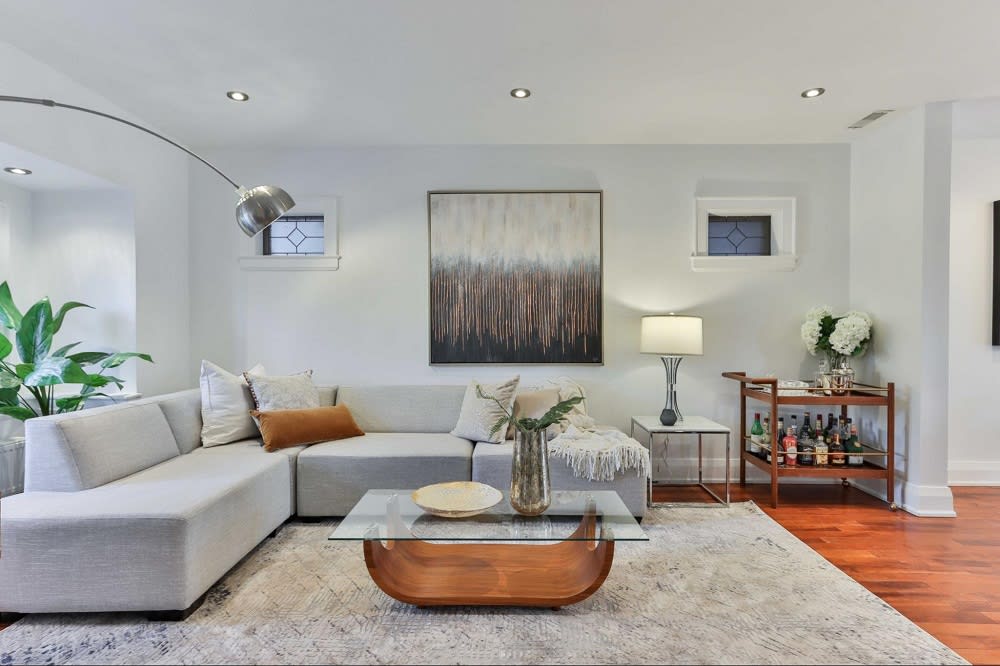 Art is an expression of the heart and soul, particularly in an area like Tribeca, which is home to many galleries. Choosing artwork that speaks to you will allow you to show off your individuality while also adding color and character to your condo. Art can be especially useful for filling space when you have long stretches of a wall or high ceilings. One large piece can make a bold statement, or several smaller pieces in an asymmetrical positioning can train the eye to follow a line and make a wall look longer. If you are going for a consistent and cohesive look, consider choosing one color for all of your frames, even if they are different styles.
8. Throws and pillows
Depending on the feel you are seeking, a soft, luxurious throw or two across a couch, sectional, or side chair can make a room feel welcoming and cozy. Pillows can add more character and help pull together a color palette. You can choose matching colors and patterns or different, contrasting colors to make a bold statement, as long as the design works well.
9. Accentuate your home's unique features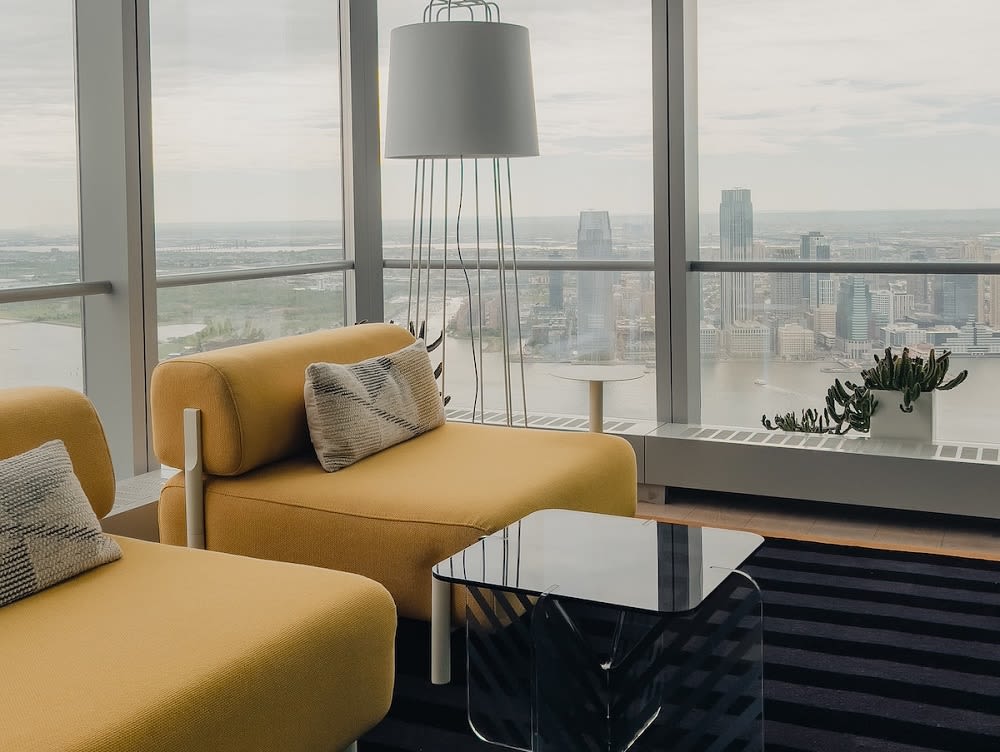 What makes your Tribeca condo different from modern homes across the country? The industrial buildings that shaped the region are often filled with exposed brick walls, concrete, wooden beams, and unique views of the Hudson River. If it fits your taste, play up the historical aspect of the building and use these elements to your advantage by determining how to incorporate them into your overall design scheme.
10. Texture is as important as color
While we're speaking of bricks, wood, and other textures, it is essential to note that you can also use a variety of surfaces in your furnishings. Look at textures like velvet, silk, leather, feathers, and metal. Don't be afraid to play around and make a statement with an elegant color scheme. You don't have to stick to neutrals – find the right combination of colors and textures to make a room pop.
11. Build storage upwards
In smaller condos where space is at a premium, you must carefully consider storage options. Use wall space that might otherwise be neglected by installing floor-to-ceiling shelves. Adding floating shelves to the upper perimeter of the walls gives you more storage space and adds unique visual interest to a room. In this way, you can still display your favorite decor items, collectibles, or even potted plants. Use stylish baskets to organize and hide smaller or less attractive items if necessary.
12. Refresh the bathroom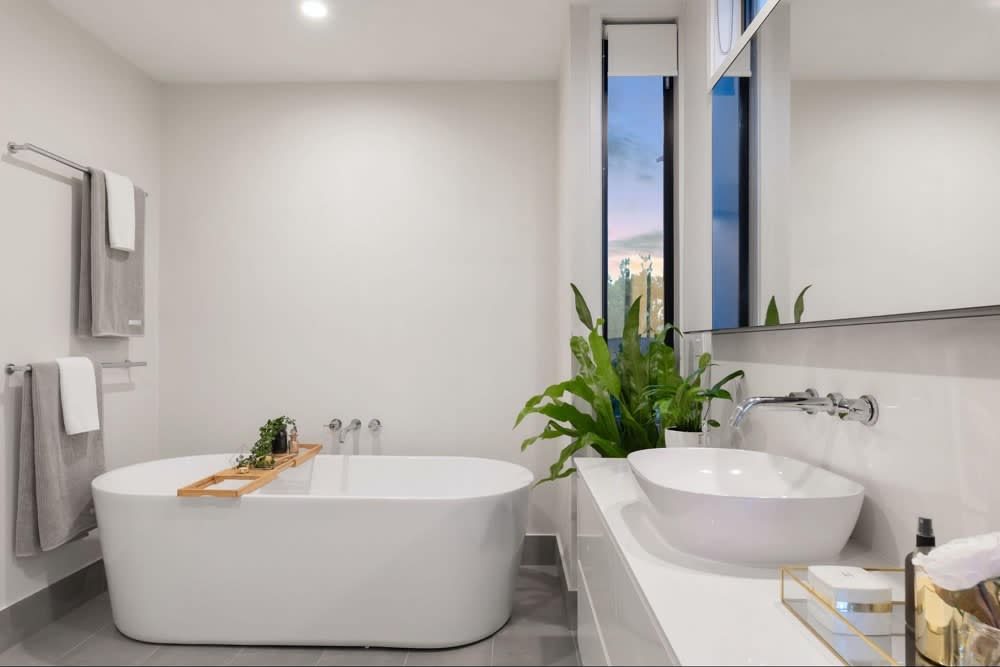 Often, homeowners will focus their design projects on the kitchen and living areas, where guests will be, or the bedrooms where they sleep. However, refreshing the bathroom is a great way to modernize the room and make it a comfortable place to relax after a long day at work. You can install a premium showerhead that offers various settings or even consider a steam shower or a soaking tub for rejuvenation.
Consider calming colors and natural decor like plants if you seek a
spa-like environment
. Bathrooms tend to be significantly smaller than other rooms, but you can keep them light and airy with mirrors, brighter bulbs, or additional lighting. Create an atmosphere that feels like an oasis and keeps you calm.
13. Focus on what you love
Trends are tempting. But trends and fads will fall out of style eventually. If you focus on what you love and design the rooms in your Tribeca home around your tastes, you will enjoy it much more. Your decor will stay in style for years because it is your style. Set other people's vision for your home aside. Play with different ideas, and don't be afraid to break the rules. Ultimately, this is your space. Your home needs to be a reflection of you, so trust yourself.


If you are looking for a new condo or are ready to sell your home, Sean Attebury is an agent who has a great deal of experience with
Tribeca real estate
. He enjoys working with new and returning clients, helping them navigate the challenges of buying and selling in New York City.
Contact
Sean today for an expert advocate in your home search.